Getting Active & Outdoors in Your Community This Summer

Staying active doesn't always mean hitting the gym and lifting weights. Physical activity in your day to day routine is what's most important!
At Sunset Lakes Developments, our communities are designed for optimal outdoor activity usage, so there's no shortage of ways to boost your activity levels. Moderate to vigorous intensity aerobic (sustained cardio) activity – like brisk walking with a neighbor, is the perfect way to up your heart rate (safely!)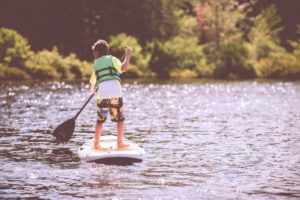 How long and how often?
Well an ideal goal every week would be 150 minutes. That may seem like a big number but if we break it down to a few minutes every day, you'll see just how doable it is!
30 minutes at least 5 days a week whether that's a 30 minute walk with the dog after work or three 10 minute bouts throughout the day
What can I do?
Walking trails – walk, run, bike, blade (or cross country ski & snow shoe in winter)… your options for using the walking trails in Greely are abundant. Take your pick!
Help out in your community – your Owner's Association can always use some helping hands. Whether that's planting in the community gardens, cleaning the pool area… Reach out to your Owner's Association Board to see how you can help! It's a win-win for you and your community!
Splash! Hop in your lake or community pool to do some laps. Swimming is a great aerobic exercise that's also easy on your joints.
Hit the parks – your community is loaded with recreational amenities. Hit the tennis, volleyball, or basketball courts, fitness trail (Check out the new Greely Village Park and Pebble Trail Woods Park & Fitness Trail), or playground with the kiddos.

This counts as physical activity?! I didn't realize!
That's right! Gardening, mowing the lawn, playing with the pup, taking out the recycling bins, walking up and down the stairs, the list goes on… these ALL keep you active throughout the day
But what's most important – is to limit your sedentary time throughout the day. I know, I know! It can be so hard in today's world –sitting in your car on the commute to and from work (yes, that counts, sorry!), or lounging on the couch watching the news or reading a book. It is necessary to rest but if you can limit these bouts of sitting to 20 minutes at a time it will make a big difference in the long run.
How do I do that?
Are you sitting at the office all day? Set yourself a timer. Every 20 (or so) minutes, get up, have a stretch, grab some water, use the washroom, say hello to a coworker… You get the idea! Breaking up the time in your chair can make a significant difference in your activity levels and heart health long-term.
So grab a friend, family member, or neighbour and get active & outdoors in your community!

«  Making Greely Your HOME | Home | Community Waterski Wednesdays! »