Woodstream
Buying an existing home or lot in a Sunset Lakes Community? You'll need a status certificate! Click for more info.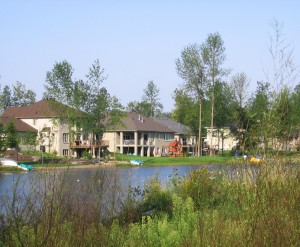 Tennis, walking trails, green space – Welcome!
Woodstream is a unique lifestyle experience in a genuine village atmosphere with resort style amenities, large treed home sites, a true sense of community, all within the City of Ottawa, 22 kms south of Parliament Hill, and only minutes away from city amenities and conveniences.
In addition, the usual amenity package, Woodstream is on the western end of the Central link of the Village Trail system and features a brookside walkway of approximately 2 km to the older part of the Greely Village and proposed new community of Sunset Lakes South Village.
Woodstream carries on the vision of the immensely successful Sunset Lakes community also nearby in the Village of Greely.
You can purchase a home, arrange for one to be built to suit your needs, or take an active role in building your own home. All homeowners will be protected with a design review process to maintain property value and appearance. Woodstream is attractive to families and empty nesters who will enjoy the fresh air and resort style amenities and are looking for good value for a well designed, well-built home. The process is designed to yield innovative, thoughtful, yet value-conscious homes.
Make your home a haven at Woodstream.
There are only THREE lots left for sale in Woodstream – purchase yours today!

CLICK HERE to view a list of available lots for sale in all communities.

CLICK HERE to view a list of homes for re-sale in our communities.
LOT SIZES
Minimum lot sizes are .2 hectares (approximately ½ acres – 100 x 215 feet) or 4 to 6 times the size of many new urban lots. Over 25% of the home sites are directly on the water and all homes have waterfront access, use of amenities and trails, and tennis.
SCHOOLS
Woodstream is served by public and separate schools at both primary and secondary levels.
GOLF NEARBY
The south end of the National Capital is a golfer's paradise with approximately ten to twelve golf courses only minutes away.
Woodstream is located just off of Stagecoach Road and can be accessed at Woodstream Drive.