Sunset Lakes Water Testing Data
The SLOA board of volunteers has put a lot of effort into maintaining the water quality in the lakes and ponds of  the Sunset Lakes community. Here, Sunset Lakes residents can easily access the history of water quality in the lakes and ponds.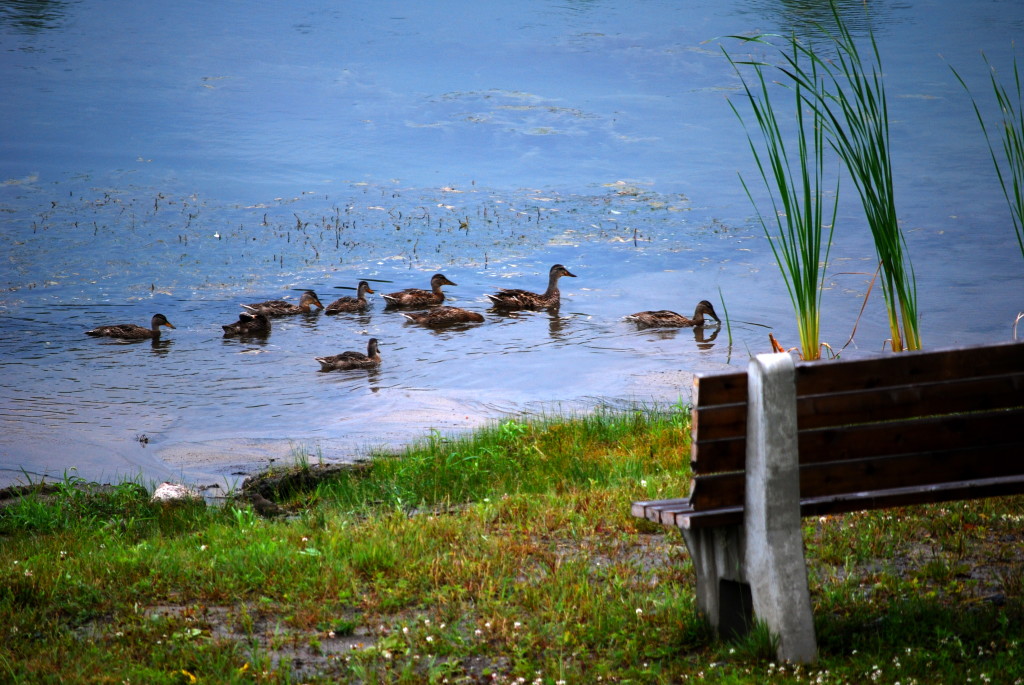 Sunset Lakes Water Testing Results
The clarity of the water is good in all lakes except Twin Lake, which has a lot of floating particulate – a natural phenomenon. The South Pond is looking better than it has in the past 3 years. Both the North and South Ponds appear to have "tea" coloured water which is likely because the ponds were dug from a bog. The water colouring is a natural, permanent condition and it is a condition that is exhibited by many lakes in Northern Ontario. The water in those lakes is clean but dyed tea colour (reddish-brown) because of the water seeping/flowing through a bog.
All lake treatments are now complete for the 2015 season.
Data Collected: September 15, 2015
By SLOA
| | | | | |
| --- | --- | --- | --- | --- |
| Sample Type | Twin Lake | Sunset Lake | South Pond | North Pond |
| pH | 7.8 | 7.8 | 7.8 | 8.0 |
| Phosphorus | 0 | 0 | 0 | 0 |
| PPm buffer | 180 | 180 | 180 | 120 |
| PPm nitrate | 0 | 0 | 0 | 0 |
| PPm nitrite | 0 | 0 | 0 | 0 |
Data Collected: August 4, 2015
| | | |
| --- | --- | --- |
| Sample Type | Sunset Lake | Twin Lake |
| Escherichia Coli | 7 | 32 |
Data Collected: July 24-July 31, 2015
By SLOA
| | | | |
| --- | --- | --- | --- |
| Sample Type | Twin Lake | Sunset Lake | South Pond |
| pH | 8.0 | 7.8 | 8.0 |
| ppm buffering capacity | 140 | 120 | 120 |
| ppm Nitrite | <0.5 | <0.5 | <0.5 |
| ppm Nitrate | 0 | 0 | 0 |
| Phosphates | Not measurable | Not measurable | Not measurable |
Data Collected: July 21, 2015
*guidance exceedance
| | | | |
| --- | --- | --- | --- |
| Sample Type | Sunset Lake | Twin Lake | South Pond |
| Nitrates (N-NO3) | <0.10 | 0.53 | <0.10 |
| Total P (phosphorus) | 0.024* | 0.010 | 0.020 |
Data Collected: June 11, 2015
| | |
| --- | --- |
| Sample Type | Sunset Lake |
| Total P (phosphorus) | 0.022 |
Data Collected: June 11, 2015
*guidance exceedance
| | | | |
| --- | --- | --- | --- |
| Sample Type | Sunset Lake | Twin Lake | South Pond |
| Escherichia Coli | 10* | 38* | 51* |
Data Collected: May 7, 2015
*guidance exceedance
| | | |
| --- | --- | --- |
| Sample Type | Sunset Lake | Twin Lake |
| Nitrates (N-NO3) | 0.47 | 1.77 |
| Total P (phosphorus) | 0.022* | 0.016 |
Data Collected: August 3-August 12, 2010
By SLOA
| | | | | |
| --- | --- | --- | --- | --- |
| Sample Type | Twin Lake | Sunset Lake | South Pond | North Pond |
| pH | No data collected | No data collected | No data collected | No data collected |
| ppm buffering capacity | No data collected | No data collected | No data collected | No data collected |
| ppm Nitrite | No data collected | No data collected | No data collected | No data collected |
| ppm Nitrate | <0.1 | 0.33 | <0.1 | <0.1 |
| Phosphates | 0.016 | 0.0150 | 0.028 | 0.03 |