Custom Model Homes
Last updated April 28, 2016
Interested in purchasing a lot? Check our Available Lots Page!
The are no current model homes for sale. Please check our Homes For Re-Sale page if you are interested in purchasing a previously built home in one of our communities.
Previous Model Homes in our communities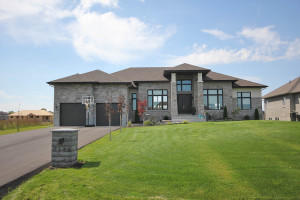 This 5 bedroom, 2800 sq. ft. executive custom lakefront bungalow by BroNick Contracting and Management Inc. features a modern open concept design with walls of windows to provide beautiful views of the lake. Contemporary finishes have been carefully chosen to suit the style of this beautiful home! Special features include: 15ft and 13ft ceilings, gas fireplace finished from floor to ceiling with culture stone, built in speakers, custom square columns and detailed ceiling in dining room, custom maple cabinets and an oversized island of marble and quartz in kitchen, custom built 8 foot doors, a theater room and a three-way gas fireplace with stoned built in bar. This move-in ready home can be yours for $899,900!
The Wicklow
This beautiful waterfront bungalow with a walkout basement and a full deck facing a gorgeous waterfront view features 2,500 square feet of living space upstairs, 1,350 square feet of walkout, a modern, spacious indoor media room, hardwood and ceramic flooring, three and a half baths, and an elegant wrought iron balcony between the master bedroom and the kitchen.
The Florida
by Picasso Custom Homes
www.picassohomes.ca

This 3,450 square foot open concept bungalow is just as stunning on the inside as it is on the outside. With its sky-high ceilings and sprawling windows facing a beautiful lake view, you'll be struck by the amount of space and light throughout the home. The Florida has 3 bedrooms, 3 and a ½ baths, a finished basement, and a 3-car garage.
The Firenze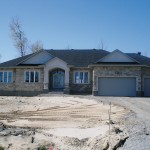 By Toscana Developments
www.toscanadevelopments.com
This gorgeous open-concept bungalow has a walkout basement backing onto the sparkling waters of Blue Water Lake! With every attention given to luxury and detail, the 2,700 square foot home with five bedrooms, four baths, cathedral ceilings, and a stunning waterfront view on a beautiful half-acre lot is sure to please even the harshest of critics. This home also comes with a three car garage, a beautiful combination of stone, brick, and stucco exterior finishing materials and an optional and additional 1,900 square foot basement with 9 foot ceilings.
Palma Homes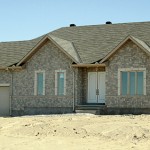 Just imagine… a luxurious 2,750 square foot stone and brick bungalow located on a spacious ½ acre lot! This 3 bedroom, 3 bathroom home features beautiful double crowns, granite and hardwood throughout, stone burning fireplaces and beautiful en-suite bathrooms with tiled showers.
La Rosa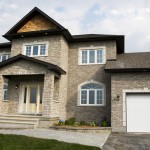 By Villa Homes Ltd.
www.villahomes.ca
This 2-storey home boasts a large family room with a gas fireplace, kitchen with island, granite countertops and a large pantry. A circular staircase leads to the second floor where one can find a beautiful master bedroom with a sitting area and a large en-suite bathroom containing a corner tub and a custom-tailored, mirrored walk-in closet. The sprawling 2,900 square foot, 4-bedroom home also features a stunning granite entrance, a floor to ceiling stone fireplace, and gorgeous coffered ceilings. Access is available to the basement from the triple car garage.
The Protos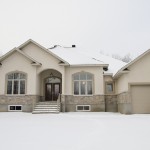 By Omega Homes
www.omegahomes.ca

Welcome to the Protos by Omega Homes… This breath-taking, open-concept, 3,600 square foot bungalow features soaring ceilings with crown moldings, an eye-catching floor-to-ceiling fireplace, and countless upgrades such as bamboo hardwood, tile floors, all-over granite counter tops, and pot lights. In addition to the high end finishes, the home also features a spacious rec room, and a three-car garage.
The Elmwood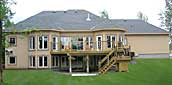 By Villa Homes
www.villahomes.ca
The Elmwood is an award-winning, 2,250 sq. ft., 3-bedroom family home with a basement walk-out. There's a European oak style kitchen (42″ high) with valance lighting, 2 1/2 bathrooms, 9 ft. ceilings on the main floor, 9 ft. basement ceilings, a circular oak staircase, and triple-car garage. The exterior is stone & stucco.
The Niagara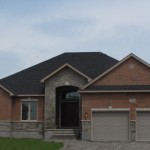 By L. and J.P. Manor Developments Ltd.

This breath-taking 3 bedroom bungalow with a full stone and brick exterior and Brazilian cherry hardwood floors features 2,300 square feet of living space, a stunning great room with a vaulted ceiling, a cultured stone fireplace, a large finished rec room, gorgeous granite countertops, and a covered porch in the back. Perfect for entertaining!
The Lakeview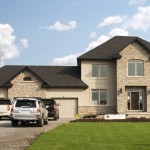 By John Gerard Homes Ltd.
www.johngerardhomes.ca
The Lakeview model is built on a premium lot by John Gerard Homes. The Lakeview offers unmatched workmanship and style and will impress even the most discerning of onlookers. The concept and design for the home was based on always keeping the waterfront view in mind and this is evident as soon as you walk through the front door. The 3,000 square foot home has an open concept kitchen and family room with a modern stone faced crystal gas fireplace. The gourmet kitchen with island has antique lacquer custom cabinets and the butler's pantry with wet bar opens to the dining room. The 4 bedroom model with a main floor den features a magnificent master bedroom that has a see-through fireplace and a luxurious ensuite bath with a rain shower. This is truly a Master's retreat.
The Milletto
By Rideau Cliffe Developments Ltd.
www.rideaucliffe.com
Proudly built by Rideau Cliffe Developments Ltd., the Miletto model boasts 1,800 square feet of open concept living space with 9 foot ceilings throughout. This 3 bedroom, 2 bathroom home features a gourmet kitchen, granite counters, sleek, contemporary hardwood and fine porcelain tile. The all stucco/stone custom built home is situated on a half acre of landscaped property in the village of Greely.
« *NEW* VIDEOS! | Home | Sunset Lakes Developments is in Lifestyle Magazine! »